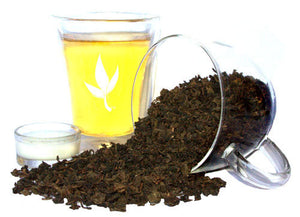 Master's Collection
The finest rolled Oolong from Taiwan. Each tea leaf is handpicked to ensure harvests of young terminal buds. The steeped tea has a light golden brown hue, intense milk aroma with a slight floral undertone. This is truly a one-of-a-kind tea. This tea can be re-steeped 4-6 times.
Grade
Superior grade Oolong Tea
Origin
Wu Yi Mountains, Taiwan
Altitude
1,500 – 4,000 ft. above sea level
Aroma
Creamy, floral, full bodied
Color
Greenish golden yellow
Taste
Velvety and creamy with undertones of orchids
Function
Slimming, anti-aging, invigorating
Ingredients
Superior grade Oolong Tea
How to Steep
1. Add 1.5 tsp of tea per 8 oz cup to your Koni infuser.
2. Steep in boiling hot water for 3-4 minutes.